In 2020, the Covid-19 pandemic exposed and accelerated the disastrous and deadly impacts of the underlying health disparities that have long affected our communities of color and those living in poverty. Founded in 2013 to address these disparities, FEAST's mission to promote health and wellness through the power of healthy food and human connection is needed now more than ever.
To continue supporting healthy eating habits and decreasing risk factors for dietary disease, FEAST immediately responded to the pandemic by transitioning our curriculum to a virtual format. Group leaders filmed weekly presentations, modified recipes to be adaptable with limited available ingredients, and offered cooking demos online to share with FEAST participants nationwide. Other resources include pantry-based recipes, stress relief, and emotional health tools. FEAST also shifted our short-term priorities and created new strategies and services to meet our constituents' most urgent needs, primarily food insecurity and access to nutritious food.
As ever, we know that maintaining our human connections is essential to good health and healing. FEAST families enrolled in our programs received one-on-one support in the form of individual wellness check-ins from our teaching team. In addition, we continued to host weekly group sharing circles, providing emotional support that is essential for navigating these challenging times. Our virtual setting enabled us to bring people together from opposite ends of the country - an unexpected positive outcome. FEAST participants and their families connected with each other, shared resources, and engaged in healthy activities from coast to coast, bringing our community together in one, shared digital setting.
Los Angeles Program Update
Wellness Programs
In 2020, FEAST directly implemented and graduated 12 virtual groups in Los Angeles in close partnership with local schools, community centers, residences, corporations, hospitals, and wellness centers. Each of our program graduates gained the essential cooking and shopping skills necessary to make healthy food choices on a limited budget. They pass this knowledge on to their children and family members, creating healthier families, one meal at a time.
To further promote emotional wellbeing for FEAST participants, FEAST hosted two virtual four week long meditation programs in partnership with Insight LA. These weekly sessions were conducted in Spanish and English and 84 participants attended from both NYC and LA. These sessions provided opportunities for participants to learn about the benefits of meditation including stress reduction.
Grocery Delivery Program
In March 2020, to address a drastic increase in concerns about food insecurity among members of the community FEAST serves, we began our Grocery Delivery Program. Every week, FEAST staff and a team of volunteers bag and deliver 500lbs of produce, donated to FEAST by our partners Food Forward and the Santa Monica Farmers' Market, directly to the homes of over 60 wellness program participants and other families in need. This approach helps protect the health of FEAST participants, 50% of whom have preexisting health conditions, by allowing them to stay in their homes, decreasing their exposure to Covid-19. It also helped to mitigate the rise of food waste, as farmers' market and restaurant demand decreased in 2020 and produce went unsold. Rather than being wasted, this produce is being reclaimed and utilized to feed families in need.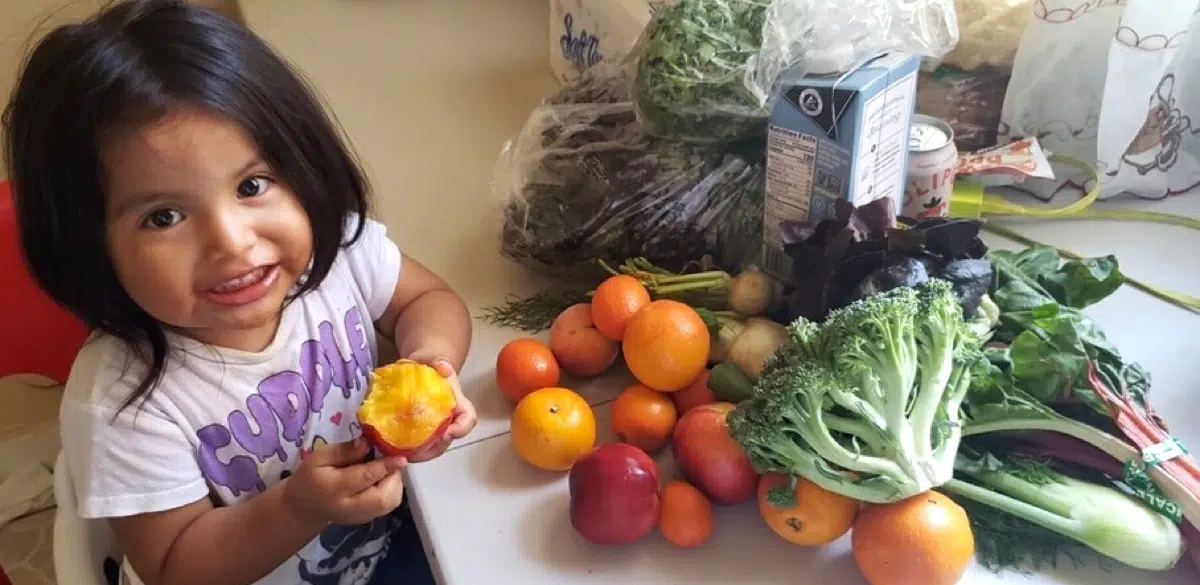 Ange's daughter with their weekly grocery delivery!
"Apart from the bags of food, we have received something of much greater value. We have received a great example of giving and sharing. Thank you for all that you're doing. Bless you for your humanity and huge hearts."
- Ange M., Graduate of The Karsh Center Group
To better understand the full impact and implications of the Covid-19 pandemic on our Los Angeles communities, FEAST conducted a formal Needs Assessment. Based on this research, we found that FEAST's efforts in 2020 not only reduced the incidence of hunger for food-insecure households, but also 61% of FEAST families reported they were actually eating healthier throughout the pandemic than prior to it. A similar, county-wide assessment conducted by our partners at USC indicated that only 28% of households throughout LA County reported the same outcomes.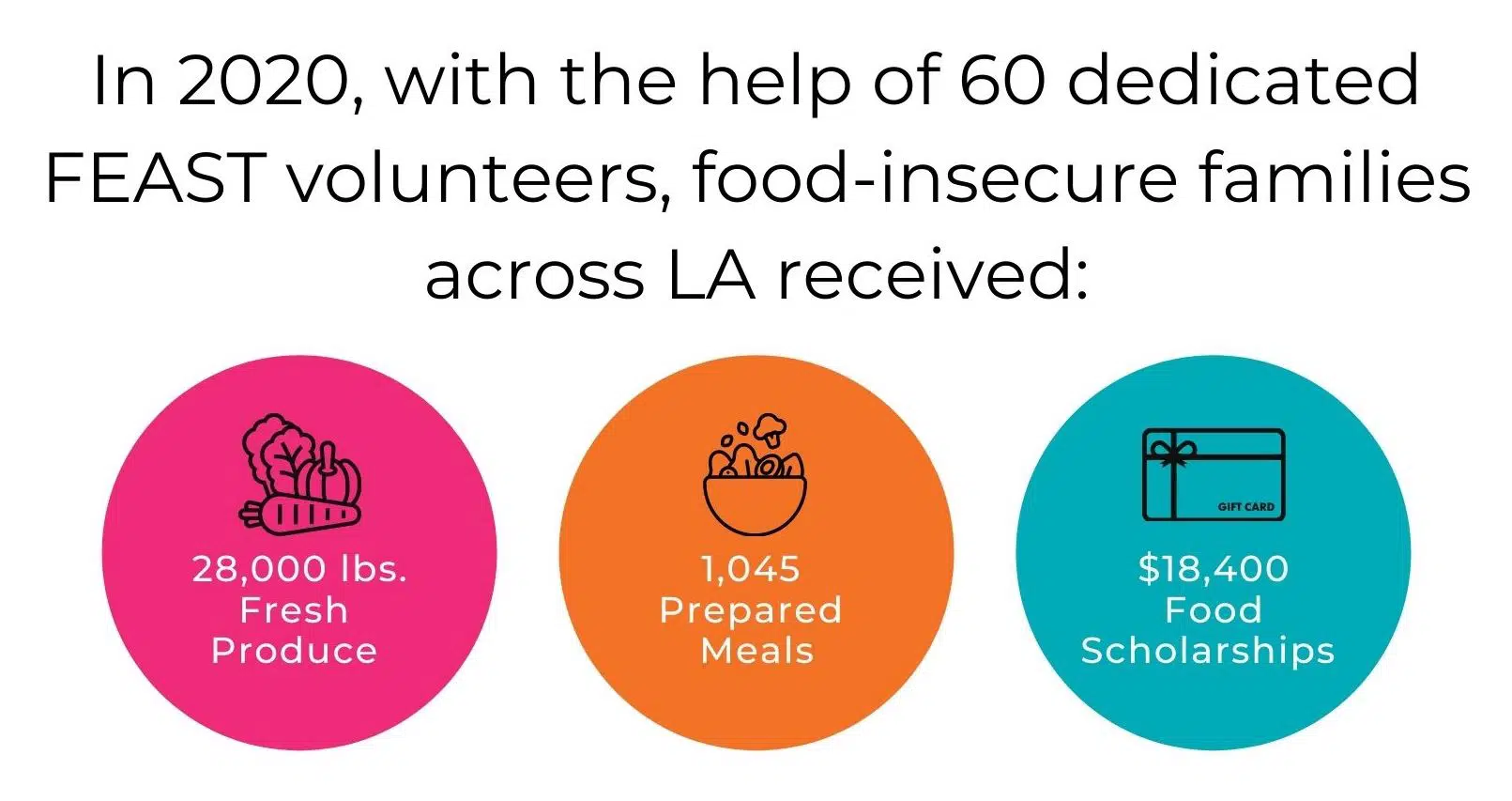 At a time when a lot of us feel helpless stuck in our homes, FEAST's Grocery Delivery Program has provided the opportunity to give back.
One volunteer, Amy shared this about her experience, "I am really excited that I can help people in need. It's made me much more aware of the food inequities that exist in our city." We asked about one positive that came out of quarantine, she said, "This is the best part of my week. It makes me feel good."
FEAST's grocery delivery efforts benefitted more than 3,700 individuals throughout South Los Angeles and surrounding areas and are continuing into 2021.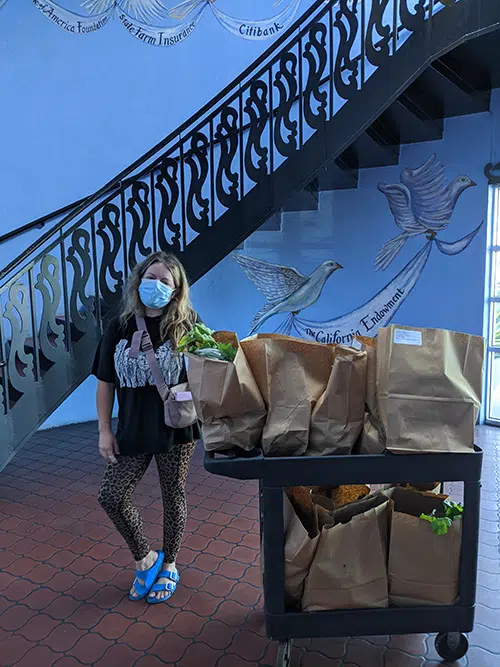 In March 2020, FEAST's PS 151 group transitioned from in-person groups to a virtual setting and in November 2020, Sualithy Rosario, a former FEAST program graduate, and PS 112's Parent Coordinator, started a virtual program. 20 participants graduated from FEAST's virtual programs in NYC!
To increase access to nutritious foods, Green Top Farm provided 3 weeks worth of fresh groceries to five PS 151 families. FEAST also distributed over $3,000 in food scholarships to families enrolled in the programs, enabling them to shop for and experiment with nutritious food at a local market!
One PS 151 parent had this to say about her experience in the program:
"This was an amazing time. The label reading was so eye opening to see what was hidden in the food. I am happy to have that knowledge of how to read them now. I loved the pasta salad recipe; I had never had that before. The sharing circle was the most moving and closest to my heart." - Liz, PS 151 parent and program graduate
FEAST Nationwide and Digital Expansion
To reach participants, their families, and communities virtually, FEAST created original, educational digital content. This includes 30 YouTube videos, in both English and Spanish, which provide tips and tools for healthy eating, nutrition education information, and recipe demonstrations. FEAST's videos were  viewed over 2,100 times! 
FEAST's nationwide programs also expanded to reach more communities in need. In 2020, FEAST trained 10 affiliate leaders who will share our wellness program with members of their local communities. Previously trained affiliates from Providence Health in South Bay and Santa Monica, Community Action Partners in Lincoln, Nebraska, and Public Health Solutions in NYC,  implemented a total of 14 digital groups, increasing FEAST's reach and impact nationwide.
FEAST's efforts to increase health and wellness in our shared communities throughout this period and beyond wouldn't have been possible without the generous gifts from our donors, partners, including LA Care, the Karsh Center, HOLA, the Foshay Center, Wellness In the Schools, Kaiser Permanente, With Love Market, Holbox, Insight LA, and Ruckus Roots, and supporting foundations and companies including, The NoVo Foundation, The Kroger Co. Foundation, The Mental Insight Foundation, The Anthem Foundation, QueensCare, The Margolis Foundation, The USC Good Neighbors Fund, Adams-Mastrovich Foundation, Sir Kensington's, Sprouts Healthy Communities Foundation, Califia Farms, L-Nutra, The Gavin Family Foundation, The Clif Bar Family Foundation, Snap Inc., The Shaheen Foundation, Albertsons Companies Foundation, and the LA Breakfast Club.