At FEAST, we welcome all individuals to gather around our shared table. Together, we will pile our plates high with fresh, vibrant fruits and vegetables and learn simple, delicious and affordable recipes to make at home. We will share our stories, celebrate our successes and receive support along our journey towards a healthy lifestyle.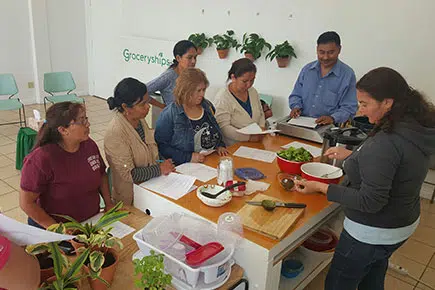 FEAST was created to help families struggling with the effects of living in a broken food system live healthier, more nourishing lives. We do that by providing a comprehensive 16-week wellness program that combines Food Education, Access to healthy foods, and group Support, Together.
To hear what our program participants have to say, CLICK HERE.
To read about our program outcomes, CLICK HERE.
JOIN US TO MAKE A CHANGE!
There are a number of ways you can get involved to help FEAST promote wellness and enrich lives through healthy food and human connection!

View Our Calendar
Join us for a Feast with FEAST, a weekly cooking class, or attend a FEAST graduation!

Host An Event
Host a Feast for FEAST as a way to raise funds and awareness about issues related to food justice!


Get Social
Follow us on social media and join our FEAST community! We share healthy recipes, program updates and events!


Start a group
Attend an upcoming training to become a FEAST program leader and start a FEAST group your community!

Volunteer
Sign up for a range of volunteer opportunities, from assisting in our classrooms, to helping out with events.