Did You Know:
"Massaging" the kale is a fast way to make this tougher green more tender.
Cooking Tip:
Letting the kale salad marinate for thirty minutes in the lemon juice-based dressing helps to soften the tougher leaves in the same way that steaming or sautéing does. It's like cooking without the heat!
(Serves 6)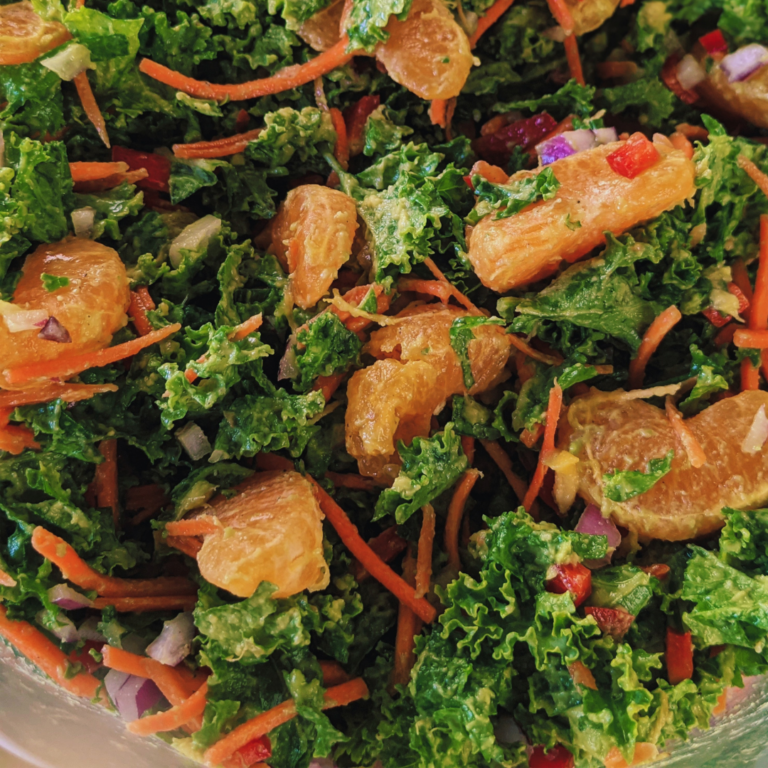 Ingredients
1 bunch of kale
1 large (or 2 small) avocados, sliced OR 1/4 cup of hummus
1/2 lemon, juiced
1/2 tsp red chili flakes
1/2 red bell pepper, finely chopped
1 small carrot, grated
1/2 purple onion, diced
3 mandarin oranges, peeled and divided into segments
salt to taste
Equipment
1 large mixing bowl
2 small or medium bowls
Grater
Knife + Cutting board
Mixing spoon
Recipe Preparation
Remove stems from kale, and chop the leaves. Toss leaves in a large bowl with the avocado or hummus, lemon juice, salt, and red chili flakes.
Mash and massage the avocado (or hummus) into the kale with your hands until it is spread evenly like a dressing throughout the kale.
Stir in the red bell pepper, carrot, purple onion, and mandarin orange segments.
If you can, let the salad sit for 30 minutes before serving. If not, dive in!