Did You Know:
Kids will love making these colorful veggie wraps. Let them choose the ingredients they like, wrap them up, and enjoy! 
Cooking Tip:
This recipe also makes a great, simple crunchy salad. Just chop up the ingredients, toss in a bowl, and dig in!
(Serves 6-8)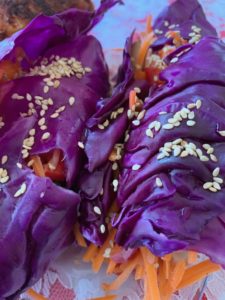 Ingredients
1 cup shredded carrots
1 can low-sodium or organic cannellini beans, drained
1 orange pepper, thinly sliced
1/2 red onion, sliced
1 or 2 avocados, sliced
2 Tbsp Dijon mustard
1/2 cup lemon juice (from 2 or 3 large lemons)
Sesame seeds (If no sesame seeds, use sliced almonds or sunflower seeds)
1 firm head of iceberg lettuce, romaine lettuce or cabbage*
*If using cabbage, cut the head in half, core it and soften the leaves by dipping in hot water for a few minutes. This will make them softer.
Equipment
1 large mixing bowl
1 small mixing bowl
2 large stirring spoons
Knife + Cutting board
Measuring spoons/cup
Grater if using whole carrots
Recipe Preparation
Combine the carrots, beans, pepper, onion and avocado in a large bowl.
In a small bowl, make the dressing by blending together the mustard and lemon juice until smooth. Add salt and freshly ground black pepper to taste.
Pour the dressing over the bowl of vegetables and beans. Toss to combine, then top with sesame seeds.
Peel off individual leaves of lettuce or cabbage. Being careful not to overstuff them, add a few spoonfuls of the dressed vegetable and bean mix and fold over to make a burrito. Enjoy!