This recipe brings a little extra flare to your typical baked potato recipe. Did you know the skins of sweet potatoes (as well as the skins on yams and regular potatoes) have lots of nutrients like potassium, fiber, and iron! You should eat the skins!
Cooking Tip: Steaming - in the microwave or on the stove top - is one of the fastest and healthiest ways to prepare vegetables. Cooking the vegetable until it's just soft enough to eat will keep the most nutrients in your food and won't add fat or calories!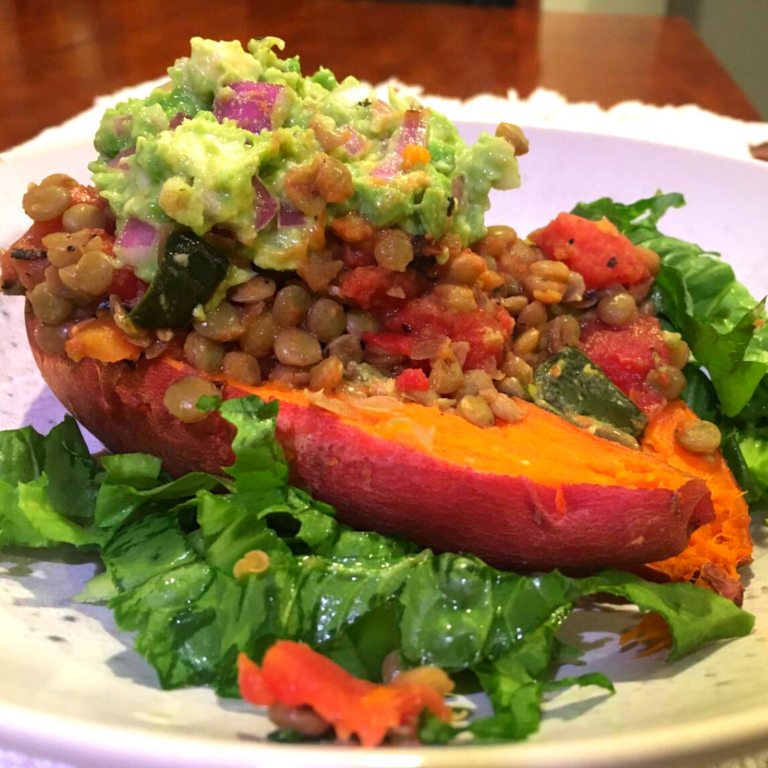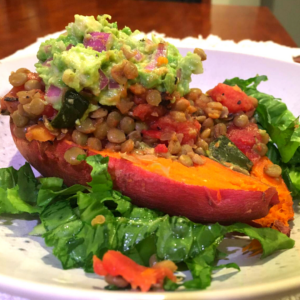 Serves 4
Ingredients
4 medium sweet potatoes
2 cups cooked lentils (or other beans from canned or dried)
1 head lettuce, shredded
3 oz. Greek yogurt
2 avocados, peeled and sliced
4 tomatoes, diced (or one 14.5 oz. can of diced tomatoes)
1 red onion, sliced
1 bunch cilantro, chopped
Roasted poblano peppers (optional)
1 lime, juiced (if making quick guacamole in step 5)
Recipe Preparation
Rinse sweet potatoes, then carefully puncture each one several times with a fork or knife.
Wrap each sweet potato in a damp paper towel and microwave until soft, 5 to 7 minutes, depending on size. You can also put them in a large pot in a steamer basket and an inch of water and steam for 7 to 10 minutes until soft.
Cut sweet potatoes in half lengthwise, and top with lentils, lettuce, and Greek yogurt.
Garnish with avocado, tomatoes, red onion, cilantro, and poblano pepper, or make a quick basic guacamole as in step 5.
To make a quick guacamole, mash the avocados in a medium bowl with a fork, until smooth, but still a little bit chunky. Stir in the tomatoes, red onion, cilantro, as much poblano pepper as you like, and the lime juice, season with salt and freshly ground black pepper to taste. If possible, let rest for 30 minutes to allow flavors to blend.