This seasonal salad uses a delicious roasted acorn squash, which adds a hint of natural sweetness and is full of vitamins, nutrients and fiber!
Tip: To make the kale easier to chew, be sure to remove the spine of the leaves. You can also sautee kale for a few minutes to wilt the leaves and enjoy a warm salad!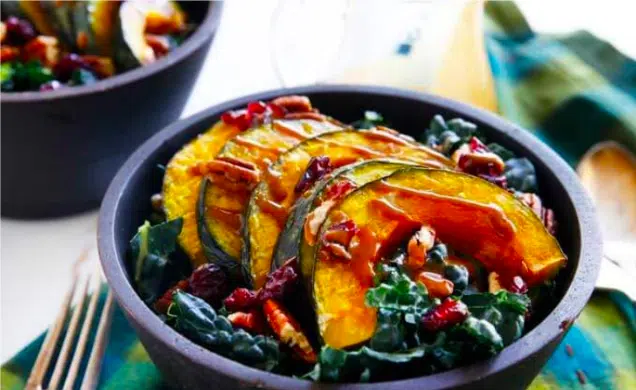 Salad Ingredients
1 acorn squash
2 tbsp olive oil
4 cups kale
1 cup pecans
½ cup pomegranate seeds
Dressing Ingredients
½ cup olive oil
½ lemon, juiced
1 tbsp Dijon mustard
¼ cup balsamic vinegar
2 cloves garlic, minced
Recipe Preparation
Preheat oven to 400°F and line a baking sheet with parchment paper.
Slice acorn squash and toss with (2 tbsp) olive oil and spread across a baking sheet.
Roast squash for 30-40 minutes until tender. Remove and set aside.
For the dressing, whisk together lemon juice, Dijon mustard, balsamic vinegar, and minced garlic.
Slowly pour in (½ cup) olive oil to the dressing mixture and whisk well.
Combine roasted kabocha squash, kale, pecans, and pomegranate seeds in a bowl. Add dressing to taste.