Slices of avocado and citrus arranged on a bed of arugula, sprinkled with chopped nuts, and drizzled with vinaigrette. Delicious!
Did You Know:
"Zest" is a fancy word for the outer layer of a citrus fruit peel. It contains essential oils, which give the citrus much of its scent. It adds an extra kick to dressings, muffins, and more.
Cooking Tip:
To zest, shave off some of the brightly colored skin. Stop grating as soon as you get to the white part, called the pith, which is bitter.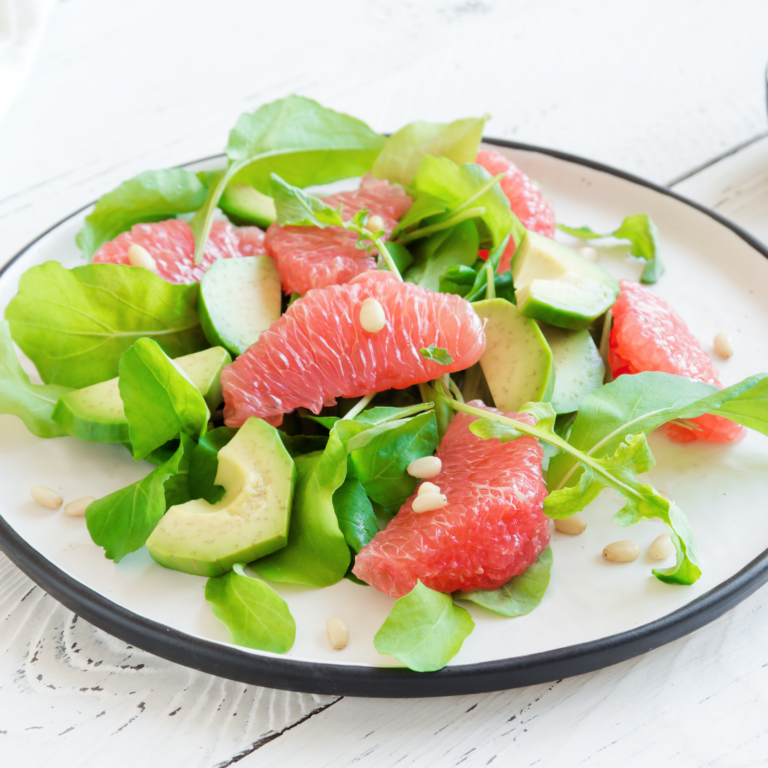 Serves 2
Ingredients
1 citrus or other fruit (orange, grapefruit, tangerine, mango, pineapple or strawberries)
2 oranges for the vinaigrette
1 tsp zest from the citrus fruit
1 shallot, minced
2 Tbsp white wine vinegar
1 Tbsp olive oil
1 cup of arugula or mixed greens
1 avocado, sliced
1/4 cup chopped nuts (walnuts or almonds)
Recipe Preparation
Grate 1 teaspoon of zest from your citrus fruit, then peel and slice into segments. If using mango, pineapples or strawberries, chop your fruit and grate 1 teaspoon of zest from the oranges.
In a medium bowl, combine the juice from the two oranges with the citrus zest, shallot, and white wine vinegar. Toss together and season with salt and freshly ground black pepper to taste.
Then, with a whisk, slowly add the olive oil, whisking quickly until all ingredients are fully combined.
Arrange the arugula or mixed greens in a bowl or platter.
Slice the avocado and arrange on top of the arugula. Add slices of citrus or chopped fruit, then sprinkle with chopped nuts and drizzle with vinaigrette.
Serve and enjoy!
Special Notes:
If you do not have a zester, use a vegetable peeler or knife then finely cut. You can also use a fine cheese grater.
Let the shallot marinade in the citrus juice longer to cut the pungent taste.
Cooking Demonstration (Spanish)