Beans are one of the most affordable sources of protein! It costs $3 to make the burger patties, but if we used 2 lbs. of beef instead of 2 cans of beans, it would cost $9 or more. 
Cooking Tip:
If the burgers are crumbly, add just a little more water or broth to the mixture.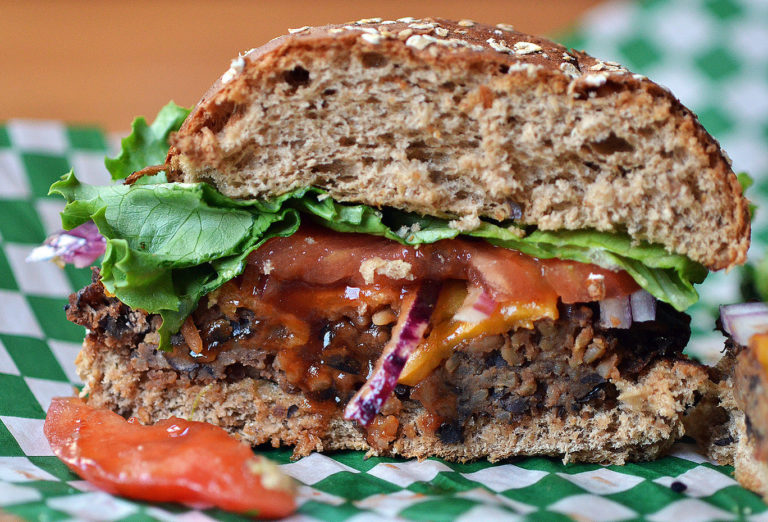 Serves 6 to 8
Ingredients
2 (15-oz.) cans black beans, drained and rinsed
1 onion, minced
1/2 cup each, red and green bell peppers
1 tsp red pepper flakes
1 tsp paprika
1 tsp Worcestershire sauce
1 tsp hot sauce
1 tsp freshly chopped cilantro leaves
3 Tbsp whole wheat flour
1 Tbsp corn starch
1-1/2 tsp salt
1 Tbsp freshly ground black pepper
1-1/2 tsp cumin
1/4 cup broth, if needed
3 Tbsp olive oil
8 whole wheat hamburger buns
Toppings (spinach, lettuce, sliced tomato, sliced red onions, etc.)
Recipe Preparation
In a large bowl, finely mash the black beans with a potato masher or fork.
Add the minced onion, red and green peppers, red pepper flakes, paprika, Worcestershire sauce, hot sauce, cilantro, flour, corn starch, salt, pepper and cumin. Mix well with a wooden spoon. If mixture is too dry, add just enough broth to help the ingredients stick together.
Form into 6 or 8 burgers and arrange on a platter.
Heat the oil in a large sauté pan over medium-high heat.
Sear the burgers for 3 to 4 minutes on each side until they have a nice crust.
When done, transfer the burgers to a paper towel-lined platter.
Fill each bun with a burger and your choice of toppings. Top with a good drizzle of ketchup and/or mustard.