This recipe uses fresh fruits and spices and is so much better for you than store-bought apple cider, which is loaded with sugar and processed ingredients!
Get ready to make your home smell delicious and inviting for the holidays!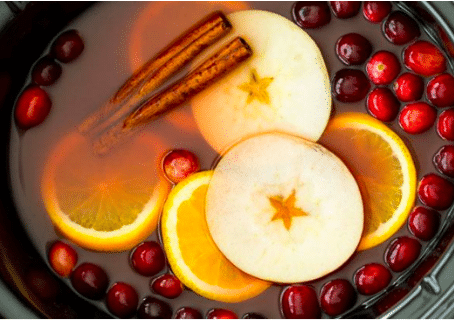 Ingredients
7 medium apples, cored and quartered with skin (a mix of Granny Smith, Honeycrisp, Gala)
1 orange, peeled and cut into segments
½ cup fresh cranberries
8-10 whole cloves
2 cinnamon sticks
1-2 whole star anise
½ cup of coconut sugar to sweeten (optional)
Water
Recipe Preparation
Add ingredients to a pot, pressure cooker, or slow cooker.
Add water to cover all of the ingredients.
Boil ingredients. (Cooking options: a. Stovetop - high heat for 3 hours, b. Pressure Cooker - high pressure for 15 minutes, quick release after 10 minutes. c. Slow Cooker - low heat for 4 hours)
Mash the fruit with a potato masher or fork to release the juices.
Strain solids and serve.
You may store the cider without solids in an airtight container for up to 1 week or freeze for later use.