Many favorite fall beverages bring back memories of holiday cheer while also loading us up with ingredients we may wish to avoid, like sugar. With this recipe, you can feel all the good feels without compromising your healthy eating habits!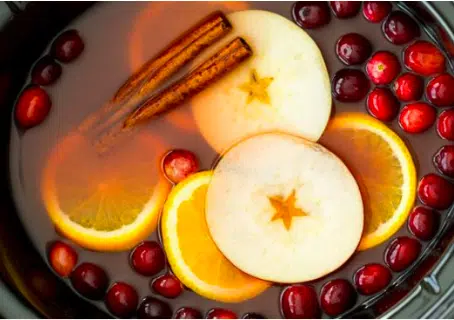 Ingredients
7 medium apples, cored and quartered with skin (a mix of Granny Smith, Honeycrisp, Gala)

1 orange, peeled and cut into segments

½ cup fresh cranberries

8-10 whole cloves

2 cinnamon sticks

1-2 whole star anise

½ cup of coconut sugar to sweeten (optional)

Water
Recipe Preparation
Add ingredients to a pot, pressure cooker, or slow cooker. 

Add water to cover all of the ingredients.

Boil ingredients.

Stovetop

:

high heat for 3 hours.

Pressure Cooker

:

high pressure for 15 minutes, quick release after 10 minutes.

Slow Cooker

:

low heat for 4 hours.

Mash the fruit with a potato masher or fork to release the juices.

Strain solids and serve. You may store the cider without solids in an airtight container for up to 1 week or freeze for later use.