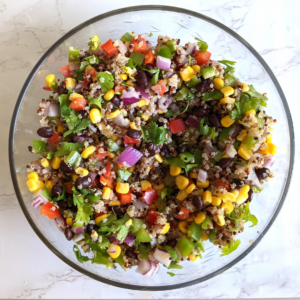 Serves 6 - 8
Ingredients
1-1/2 cups quinoa (cook according to package directions)

1 onion or 2 small shallots, chopped

1 bay leaf

1/4 tsp Himalayan salt

1 tsp ground cumin

1 tsp ground oregano

1/2 medium red or green bell pepper, diced

1 cup fresh or frozen organic corn kernels

1 (15-oz.) can black beans, drained and rinsed

1/2 cup chopped fresh cilantro

1/4 tsp cayenne pepper (optional)

2 Tbsp lime juice or apple cider vinegar
Special Note: Cook quinoa ahead of time and let cool before mixing in the remainder of the ingredients.
Recipe Preparation
In a medium pot, combine quinoa and water using the suggested amounts on the back of the package. Add onions or shallots, bay leaf, ground cumin, ground oregano, and Himalayan salt, and bring to a boil.

Once boiling, turn the heat down to simmer, cover the pot, and cook for 15 minutes. Let the pot stand covered for five minutes once the water has evaporated. Use a fork to fluff up the quinoa.

Mix cooked quinoa with bell pepper, corn, beans, cilantro, cayenne pepper, and vinegar. Season with salt and freshly ground black pepper to taste.

Enjoy!