Everyone loves a pasta salad and unlike regular pasta, whole wheat pasta has fiber! Look on the back of the package—3 grams of fiber or more is best!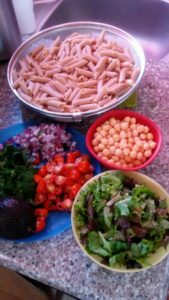 (Serves 6)
Ingredients:
1 pound whole-wheat pasta of choice
1 can low-sodium garbanzo beans, drained
1 cup halved cherry tomatoes
1 cup fresh spinach
1/2 purple onion, thinly sliced
1 avocado, sliced (optional)
1/3 cup lemon juice (from 2 large lemons)
1/3 cup water or low sodium broth of choice, as needed to moisten
Fresh herbs like parsley or basil
Directions:
Cook pasta according to package directions.
Drain and rinse pasta in cool water.
Combine pasta and remaining ingredients in a large bowl and mix well. Season with salt and freshly ground black pepper. For best taste, refrigerate for a few hours before serving.
Enjoy!
Cooking Tip:
Don't overcook your noodles! The best way to check if a noodle is cooked is to test one a few minutes before the package says it should be done. Bite the noodle in half. If the center is white, hard and chalky, it needs a few more minutes. Professional chefs cook pasta "Al Dente," which means there is the tiniest ring of white still remaining in the center. It makes for a firmer bite. If the noodle is the same color in the center as the outside, it's completely done! Drain it and rinse as fast as you can to avoid mushy noodles!