Enjoy this flavorful recipe during the early spring when Asparagus is perfectly in season! Asparagus is full of nutrients and a great source of fiber and antioxidants.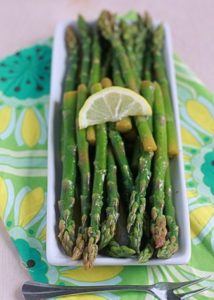 Ingredients
1 lb fresh asparagus
1 cup water
2 Tbsp Dijon mustard
Zest of 1 lemon
1/3 cup lemon juice (from 2 large lemons)
Recipe Preparation
Wash asparagus thoroughly and cut off bottom ends.
Bring a cup of water to boil in a large skillet. Add asparagus and cook for 3 to 4 minutes until deeply green and slightly softened.
Drain water. Add mustard, lemon zest, and lemon juice to asparagus in the pan. Season with salt and freshly ground black pepper to taste. Cook for another 5 minutes, mixing well.
Serve and enjoy!