THANK YOU to Bowery Farming for treating our PS 112 FEAST participants with this wonderful recipe during their graduation! This recipe, developed by Olivia Young will help you get some greens in and it's the perfect serving size for breakfast or a snack for one!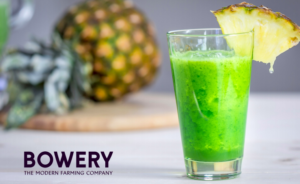 Ingredients
1 banana
1/4 cup frozen pineapple
2.5 oz non-dairy pineapple yogurt (plain yogurt also works to cut back on sugar!)
1/2 cup coconut milk (to make it creamy!)
1 big handful of Bowery Kale Mix
1/4 tsp. of fresh ginger
1 tsp. vanilla extract
Dash of cinnamon
A handful or two of ice for consistency and to keep chilled
Coconut flakes and dried papaya optional for garnish
Recipe Preparation
Place all ingredients except for garnish in a blender.
Blend to get a creamy texture.
Optional to sprinkle garnish on top.
Serve and enjoy!