Half a cup of lentils provides 9 grams of protein (that's 50% more than an egg) and has 8 grams of fiber! Lentils are cheap, easy and quick cooking. Lentils are great in soups, salads, or as a side dish.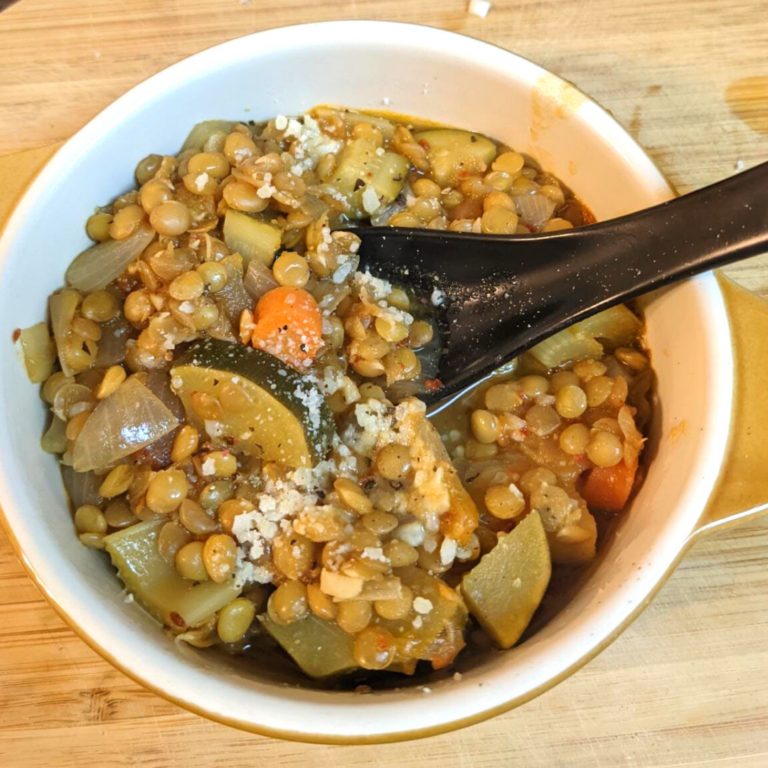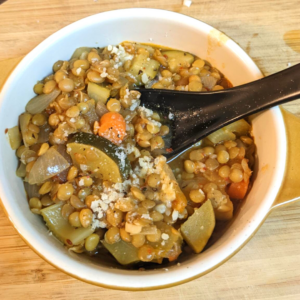 Serves 6 - 8
Ingredients
1 Tbsp olive oil
1 small yellow onion, finely chopped
4 garlic cloves, minced
1 medium carrot, chopped
2 stalks celery, chopped
1 small zucchini, chopped
2 medium potatoes, cubed
2 cups dry green (or red) lentils
8 cups vegetable broth
1 tsp dried basil-
1 tsp dried thyme
1 tsp dried cumin
1 Tbsp dried oregano
2 dried bay leaves
1 lemon
Recipe Preparation
Chop onion, garlic, carrot, zucchini, and pototatoes
Add oil to a large pot and heat on medium until hot.
Add the onion, garlic, carrot, celery, zucchini, and a pinch of salt.
Cook, stirring occasionally, until the onions are translucent, approximately 6 to 7 minutes.
Add the potatoes, lentils, broth, and spices, season with salt and freshly ground black pepper, and stir to mix well.
Increase the heat to high and bring to a boil.
Once boiling, reduce the heat to low, cover and simmer until the lentils are soft, approximately 35 minutes.
Turn off the heat and let the stew sit covered for 30 minutes to allow the flavors to bind.
If the stew thickens as it sets, mix in more broth as needed.
Add a squeeze of lemon just before serving to brighten up the stew.
Cooking Tip: 
Add more liquid for soup consistency