Chef Amanda and Jose from Crafted Hospitality demonstrate how to make a delicious and filling cauliflower taco with pickled red onions. A pro tip from the chefs -  you can pickle almost any veggie! Pickled veggies stay good in the fridge for months. Just make sure you use a clean fork or spoon to serve them. Happy pickling!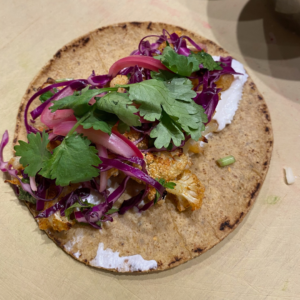 Yield: 12 Tacos
Ingredients
Corn or flour tortillas
Spice roasted cauliflower
Pickled red onions
Radish cilantro slaw
Greek yogurt
Spice Roasted Cauliflower Ingredients
1 large head cauliflower
2 tbsp oil (canola, olive, corn, etc.)
1/2 cup taco seasoning (store bought or see bonus recipe to make your own!)
1/2 tsp salt
Pickled Red Onions Ingredients
1 cup water
1/2 cup vinegar
1/4 cup sugar
2 tbsp salt
2 red onions
Cilantro Radish Slaw Ingredients
1/4 cabbage
4 medium sized radishes
1/4 bunch cilantro
1/2 tsp salt
1/2 tbsp vinegar (or pickling liquid from onions)
Equipment
Knife
cutting board
Quart container/jar/small mixing bowl
Mixing bowl
Sheet tray
Box grater
Tin foil
Small pot
Recipe Preparation
Spice Roasted Cauliflower
Pre-heat oven to 375°
Cut cauliflower into quarters from top to bottom then cut out the core, breaking up the rest into smaller florets
In a mixing bowl, mix cauliflower with oil, taco Seasoning, and salt until evenly coated
Cover a sheet tray with tin foil (easier to clean up!)
Spread cauliflower onto the sheet tray and bake for 10 minutes. Pull out and mix around. Put back in the oven and check every 5 minutes until slightly browned and tender
Pickled Red Onions
In a small pot, mix water, vinegar, sugar, and salt.
Place over medium heat and bring it to a simmer.
While the liquid is heating, peel the onions and cut into quarters from top to bottom (through the root)
Cut out the core, place flat side down and cut into thin strips
Place onion strips in quart container/jar/bowl and pour the simmering pickling liquid over
Set aside and allow to cool
Cilantro Radish Slaw 
Slice cabbage into thin strips crossways
Cut the top (leaf) end off the radishes, hold onto the root end to grate through the biggest hole of a box grater
Wash cilantro then roughly chop with the stems
Mix cabbage, radish, and cilantro in a mixing bowl with salt and vinegar and set aside
Tacos
Warm up the tortillas
Spread Greek yogurt down the middle of the tortillas
Add cauliflower, slaw, and pickled onions
Add cheese, guacamole, or salsa if you want!
Bonus Recipe: Taco Seasoning
2 tbsp chili powder
1 tbsp ground cumin
2 tsp ground black pepper
1 tsp paprika
1/2 tsp garlic powder
1/2 tsp onion powder
1/2 tsp dried oregano
Mix and store in an airtight container in a cabinet for up to 6 months
Cooking demo with Chef Amanda and Jose: