Zucchini noodles are a fun alternative to regular pasta. They provide vitamins A and C, and very few calories. Try this Zucchini Spaghetti recipe with other vegetables you enjoy, like carrots or yellow summer squash. They're all delicious.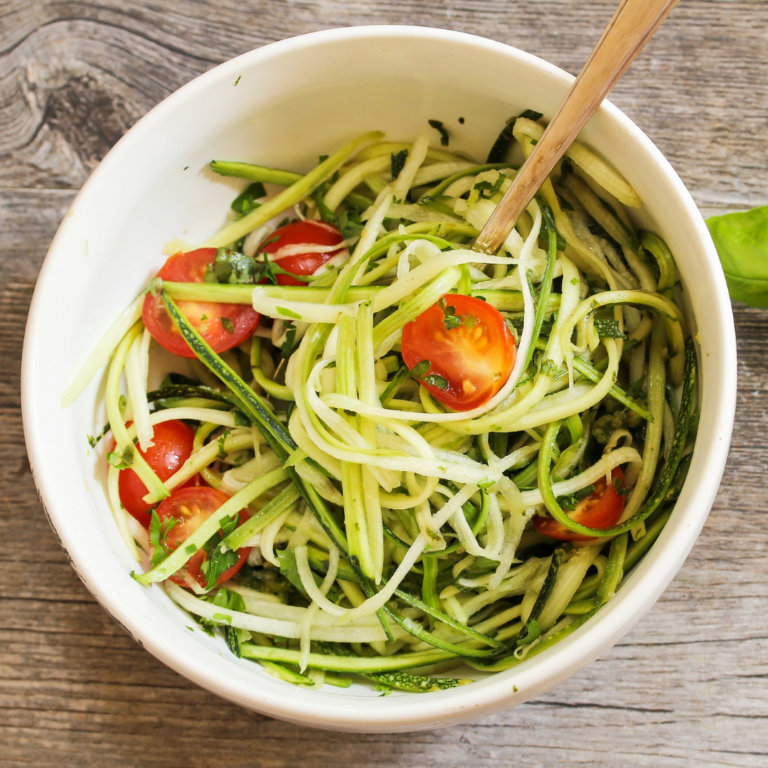 Serves 4 - 6 
Ingredients
6 zucchini
Olive oil to coat pan
2 tomatoes, chopped
1 white onion, peeled, halved, and thinly sliced
2 garlic cloves, chopped
2 lemons, juiced
Dried basil (and/or other spices for seasoning)
Optional: sesame seeds for topping
Equipment:
1 large mixing bowl
Knife + Cutting board
Measuring spoons/cup
Spiralizer, julienne slicer,
or vegetable peeler
Large pan with lid
Spatula
Recipe Preparation
Using a Spiralizer, julienne slicer, or regular vegetable peeler, make zucchini spaghetti.
Heat the olive oil in a large pan, then add the tomatoes, onion, and garlic. Cook for a few minutes until softened. Season to taste with salt and freshly ground black pepper.
Add the lemon juice, dried basil or other spices, and zucchini. Stir together, cover, and cook for 3 to 5 minutes.
Serve the zucchini spaghetti, top with sesame seeds, and enjoy!
Cooking Tips: 
Avoid peeling zucchini before spiralizing! It may become slimy and soggy
Never salt zucchini once it is heating in the pan, it may turn soggy